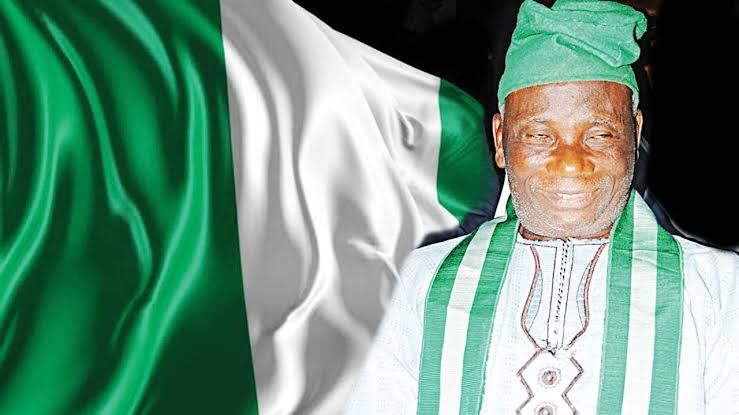 Nigeria will eventually overcome current challenges and become a better nation, said Pa Michael Taiwo Akinkunmi, the designer of the Nigerian National flag.
Naija News understands that the octogenarian stated this while addressing a reporter from Daily Post in an exclusive interview earlier.
The 84-year-old retired civil servant urged Nigerian youths to be up and doing, contributing their quota to the development of the country with the hope that things will get better soonest.
"Nigeria will still be great despite the current challenges militating against its existence," Daily Post quoted Akinkunmi saying.
Pa Akinwumi who addressed the news correspondent at Ibadan, Oyo State capital, said one of his memorable achievement in life is knowing that his design was preferred to represent Nigeria's National flag.
Speaking further about the National flag design competition, Pa Akinkunmi said the price he got for the competition and the recognition he received during the independence celebration are enough for serving the country.
He wished Nigeria well in all her endeavours, urging the youths to be law-abiding.
Pa Akinkunmi's words read: "My name is Taiwo Akinkunmi. I am the designer of the Nigerian flag.
"I participated in the competition when the government advertised it. I got my papers and tried to do something that will represent the flag of the country.
"My own design was taken and I won the competition.
"I felt satisfied when my design was taken. I got a price for winning the competition.
"I wish the youths well and good I say all the best to them.
"I hope it will be well and good for all and sundry.
"My advice is that government should try in a possible way to make interaction in their undertaking of the country."
"I got a price for winning the competition. The price for designing the flag during the independence celebration of the country.
"So, I have been on and off in the profession in which I am today.
"I wish all and sundry all and good".
Meanwhile, the author of Nigeria's National Pledge has been confirmed dead, Naija News reports.
Source: Naija News