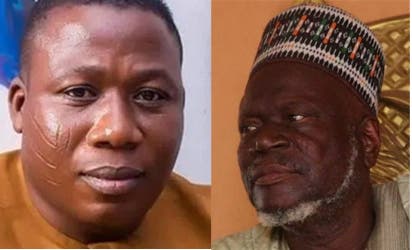 A group identified as the Gan Allah Fulani Development Association of Nigeria (GADFAN) has called on the federal government as well as the Oyo State government to compensate Sarikin Fulani Igangan, Alh Salihu AbdulKadir.
As part of its demands, the group also demanded the government should take necessary action to restore the displaced Sarikin Fulani back to Igangan in Ibarapa North Local Government Area of Oyo State.
The group, which Naija News understands is based in Abuja further demanded that Yoruba activist, Sunday Igboho should be prosecuted by security agencies for his alleged role in the Igangan crisis.
The group made its demands known in Ilorin, the Kwara State capital when it visited the Sarikin Fulani Igangan who is currently staying in the state after the crisis that chased him out of Oyo State.
The group's statement, signed by its National Chairman and National Secretary, Alhaji Sulaiman Yakubu, and Ibrahim Abdullahi respectively reads: "To our greatest surprise and dismay, up to this moment Sunday Igboho is moving freely as if nothing happened.
"The GADFAN, therefore, calls on the federal and Oyo State governments to ensure that justice is done to Salihu AbdulKadir and his people by way of not only ensuring that Igboho and his boys are apprehended and brought to book but that Sarkin Fulani and his people be compensated and returned to their homes.
"The attack led to the burning and total destruction of all his (Sarkin Fulani Igangan) houses, household items, and his animals that include cows, sheep, goats, turkeys, a school, shops, and a mosque; all worth over N500 million."
It vowed to explore all peaceful and legal means to ensure that justice is done to all parties, adding that, "We are already in consultation with our lawyers and we will soon take all the necessary legal steps if nothing is done by the relevant authorities to address the issue."
Meanwhile, the leader of the Celestial Church of Christ (CCC), Genesis Global Parish, Prophet Israel Ogundipe, has been released from prison.
The cleric who was sentenced to one-year imprisonment for converting a woman's property to his personal use and stealing joined members of his church for Sunday service.
Prophet Ogundipe in a video posted on Instagram by the church was seen leading praise and worship.
Earlier, Ogundipe had approached the court through his counsel, Babatunde K. Ogala, for bail pending appeal and an application to quash the conviction.
Ogala noted that his client is diabetic, and could no longer follow a strict diet.
Source: Naija News